William Daniel Richardson had taken over the undertaking business in Park City, Utah from his father , Jacob Franklin Richardson, in about 1910. In the 1920s silver mining declined in Park City, Utah, which was the city's major source of employment. The Richardsons decided to move to greener pastures. They packed up their Touring Car and their Hearse , the later was used as a camper, and drove accross the deserts of Utah Nevada, and California to build a new future in Ontario, California. Pictures below are from their migration (from my collection):
Picture of Richardson children around the table set next to Touring Car
Picture of Hearse (left) and Touring Car (right) with William and Juanita Richardson near cookstove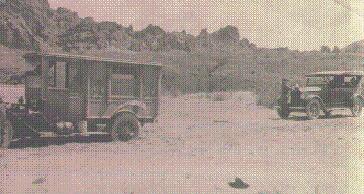 Picture of broken down Hearse and water being added to radiator of touring car. Reality check, just in case you are longing for the "good old days"!