Page prepared by Donald Richardson with help from Jackie (Wollstenhulme) Blazzard.
When I first started to research my roots, I asked my youngest daughter to have my mother fill out a family tree with all of the names that she could recall for both sides of the family My parents were divorced when I was 7 years old, so I knew little of my father. On my father's side of the family both my great grandparents and grandparents had died before I was born. So I started to work ordering death certificates and spending time at LDS Family History Libraries to get myself started. My mother had written that my grandmother was Juanita "Noblett" was orphaned as a child and raised by the brothers and sisters of her mother and they were the "Wilsonhuhms and Milners". Soon the Summit County Utah IGI files listed 3 spellings for Noblet for three of sister Juanita sisters, but not her .There was Noblet, Noblitt, and Noblett. (I use the spelling which Juanita used to signed on her wedding certificate application in 1905). Better yet, the IGI showed their mother to be Jane Woolstenhulme....
Robert Milliner Family c.1912 Peoa, Utah (from Donald Richardson collection)
Only receintly did I found that my mother oral history was correct about my grandmother Juanita's upbringing. The picture above was confirmed to be that of the Robert Milliner Family. Robert's wife was Alfretta (Woolstenhulme) a younger sister of Juanita's mother. Chad Milliner who is the great grandson of Robert Milliner has a similar picture and in his picture, Juanita (my grandmother) is standing to the right of her aunt. (Only the lower part of her dress shows in this photo) Chad Milliner also confirmed that his great grandparents had raised children other than their own. My uncles William "Bill" and Jacob Franklin "Frank" are on the porch. I do not know who the little girl to the left of my uncles is.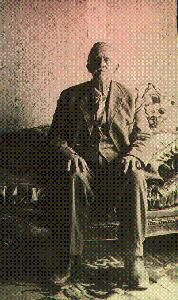 Juanita Noblet's grandfather William Woolstenhulme c1913 (from Donald Richardson collection)
My Woolstenhulme relatives came to the Kamas Velley of Summit County, Utah about 1860. William Woolstenhulme was born in Oldham, Lancashire, England 19 August 1840 and died 31 May 1930 in Kamas, Utah. His mother, Alice (Mellor), had converted to to the LDS church and emigrated about 1850 to America... William and his older brother James were involved with what is called the "Black Hawk War". William Woolstenhulme married Jane Davis in 1859. Jane Davis was born in Stoke Abbott, Dorset , England. Their first child was Jane Elizabeth Woolstenhulme born in Bountiful, Davis County, Utah in 18 Sept1862. Jane married Samuel Stroul Noblet in 1879 and they had four girls, only Juanita (my grandmother) and their first born Ellen May lived past childhood. Jane (Woolstenhulme) Noblet died in Kamas, Utah 8 Jan 1889. Juanita was born 23 Aug 1886 in Kamas, Utah, so she was only 3 years old when her mother died. Samuel Stroul Noblet died 9 Apr 1916 in Rock Springs, Wyo.