Lydia Ann FUNK of KY and her Swiss Ancestors
This page based in large part on 1) original research of Daniel W. Bly and published in his From The Rhine to The Shenandoah, Gateway Press, Inc., Baltimore, MD 21202, vol. I. (1993), vol. II. (1996)*; research of 2) Karen Kellogg Stephen of Mehoopany, PA., 3) Christine Stephens of Ft. Thomas, KY and 4) Mike Judd & 5) Donald Richardson.
The origins of the Funk family have been well researched and articulated by Mr. Bly. I borrow shamelessly from him; please be aware that any and all errors be they omission or commission are my own responsibility. This lineage is believed to have been involved in the early Anabaptist movement in late 16th century Switzerland. Specifically Jacob Funk and his wife Anna Naeff were born in Obermettmenstetten in the Knonau District of Canton Zurich about 1575. (Note: Obermettmenstetten is now part of Mettmenstetten).
In his book, Bly states that all of Jacob Funk's 14 children were baptized in the Reform Church in Mettmenstetten, before they became Anabaptist. In the picture to the left is the inside of the Mettmenstetten Church clearly visible is the original stone font for baptisms. The right picture shows the outside of the Mettmenstetten Church (next to a modern Community Center). The original church was built in the 1100s. The church was rebuilt in the 1500s. The bell tower dates from the 1700s. All in all this is a beautiful little church.

(Comments and Photos by Donald Richardson, May 1998)
Later generations moved to Germany and the region known as the Palatinate where they are well documented in Mennonite historical documents. Their movement can be seen as a result both of their persecution by authorities for their religious beliefs as well as their religious outreach activities. Heinrich Funk (abt 1662) was the first immigrant to the present USA in 1717 having left Bonfeld in Baden and settled with other family members in Strasburg Township, Pennsylvania. Later generations settled in Virginia and then Washington Co, Kentucky. The lineage of Lydia Ann Funk is as follows:
Jacob FUNK b bef 1575 m abt 1595 d aft 1640
Anna NAFF b abt 1576 d aft 1640

Heinrich (Heini) FUNK b 1613/14 m 20 Aug. 1634 d 1663-1670
Cathrina MEYLI b 1612/13 d 9 Apr 1681

Hans FUNK b 1639 m abt 1659 d aft 1685
?(Barbel (Barbara) FREY b 1639 d aft 1681)?

Heinrich FUNK b abt 1662 m abt 1687 d abt 1735 (Lancaster, PA)
? FRANEY b abt 1669

Hans (John) FUNK b abt 1690 m abt 1712 d abt 1758 (Frederick, VA)
Barbara ?? b abt 1694 d aft 1737

Joseph FUNK b abt 1728 (PA) m abt 1760 (VA) d abt 1782 (Shenandoah, VA)
Mary DENLINGER b abt 1728 (Lancaster, PA) d abt 1800 (Shenandoah, VA)

Joseph FUNK Jr. b abt 1765 m 20 Apr 1789 (Nelson, KY) d 1828 (Washington, KY)
Elizabeth MYERS b aft 1770 (Nelson, KY) d 1847 (Washington, KY)

William FUNK b 1798 (Washington, KY) m 5 Oct. 1820 d 1862 (Washington, KY)
Mary Polly GILLIHAN b abt 1799 (Washington, KY) d aft 1870 (Washington, KY)

William FUNK's will was written 11 Oct 1850 and probated 18 Aug 1862. It is said to include

'Wm Funk and wife Mary estate in trust to Joseph K Funk. Wm and Mary's children: 1) Joseph K Funk, 2) Levi Funk, 3) Jacob Funk, 4) Lydia Ann Richardson, 5) Sary (?) Sander (?) wife of Thomas Sander (?), 6) Mariah Funk (she later m. Jacob Cocanougher 8 Jan 1861 by W. H. Morrison), 7) Cleman Funk, 8) Wm Richardson, infant child of Elizabeth Richardson, dec., formerly Funk, and late wife of Samuel Richardson, 9) Mary H Funk. Then living on 101 1/4 acre pm Beech Fork deed mentions add. land, cattle, etc.' It is listed in Washington Co Deed Book R, pp 447-450.

Lydia Ann FUNK b 6 Feb. 1826 (Washington, KY) m 15 May 1845 (Hardin Co, KY) d 17 Nov. 1921 (Howevalley, Hardin Co, KY)

'Elizabethtown News: November 18, 1921 "WOMAN DIES AT AGE OF NINETY-FIVE Mrs Lydia Ann Richardson, aged ninety-five years, died at five o'clock yesterday morning at the home of her daughter, Mrs. Robert Peters, in Howevalley. Death was due to the infirmities of age. Mrs. Richardson was the widow of Rev. Daniel Richardson, a Methodist minister. Surviving her are four sons, John, Jacob, Richard and Daniel Richardson, and two daughters, Mrs Peters and Mrs J. R. Martin. Funeral services will be conducted today by the Rev. N. G. Cundiff, and burial will take place at the family cemetary'
Lydia Ann (Funk) Richardson (from the Sam Daugherty collection)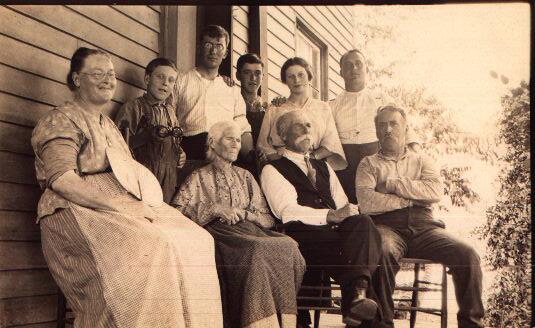 This photo of Lydia Ann Funk Richardson with her son Jacob Franklin Richardson, his son William Daniel Richardson and some other relatives, possibly the Martin family and the lovely niece of Jacob Grace Ann Richardson. Photo in KY ca 1915 courtesy of Donald Richardson.
Lydia Funk had three brothers who served in the War Between the States. Here is the grave site in Washington County, KY of her brother Clem -- the only one of the three who came out of the war alive. He lived to marry Alice Duncan. Pictured are some descendants of Lydia Funk (left to right) Dan Richardson, Dr. Emma Richardson, Mike Judd, Leona Richardson Becker, Sam Daugherty, Joe FUNK and his wife Ann Cloteal FUNK of Springfield, KY.
Lydia's eldest brother was Levi who served as corporal in Company "I" First KY Vol. Calvary. Captured at Philadelphia, TN 20 Oct. 1863. Confined at Richmond, VA Nov. 1, 1863; sent to Andersonville Ga February 18, 1864. Admitted to Hospital at Andersonville Ga August 14, 1864 where he died Oct. 4, 1864 of wounds in the misery of the Andersonville POW camp.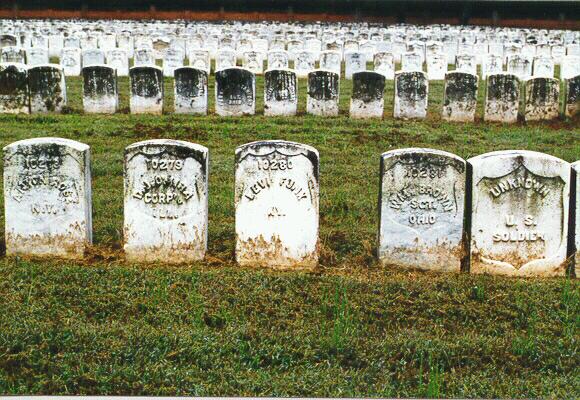 To learn more about Andersonville POW camp in Georgia take a turn to the Andersonville web site.
You may enjoy visiting this excellent Swiss family reference
Swiss Genealogy on the Internet
.
Your interest is actively solicited in any of the family names listed. This page will be improved as more information comes to us. You may contact the GILLIHAN experts and Mr. Bly may be contacted by writing to: Daniel W. Bly 94 Berkeley Avenue Grottoes, VA 24441. He is also online at Dwbly@aol.com. I am now informed that his book is out of print so will be more difficult to obtain. Good luck!
Comments and corrections to the author Mike Judd
This page was touched up 24 February 2002.