DuBois/Blanchan Family Page
The parents of Sarah DuBois were Louis DuBois and Catherine Blanchan. Louis DuBois ("the Walloon" as he was called) b Oct. 27, 1626 in Wicres, Artois, Flanders. He mar Oct. 10, 1655 at the French church in Mannheim in Baden and died 1696 Kingston, NY. Louis and Catherine emigrated Aug. 6, 1661 possibly on the "St. Jan Baptiste". Catherine Blanchan b abt 1635 in Artois and d 1713 in NY. Both came from French Huguenot families in the area of northern France that was at the time known as Spanish Netherlands. They lived in the Paltz or Palatinate along the Rhine River before emigrating to New Amsterdam. Land and privilege were confiscated by the ruling Catholic authorities and under King Louis XIV it became government policy to destroy church or public records which would allow a Huguenot to prove any right to inheritance. Louis and Catherine were among the earliest settlers in the Dutch village of Esopus (now Kingston, Ulster Co, NY) along with her parents who had arrived a year earlier (April 1660) on "The Gilded Otter". Louis served on the Duzine which was the governing body consisting of 12 men from the founding families of the New Paltz as it was known. This area came under Dutch and English influence at different times leading to changes in names, custom, etc. The dealings of this community with the local Amerindians of the Iroquois, Mohawk and other groups is quite well documented. Other children of Louis and Catherine DuBois were
Abraham (b 1657 mar Margaret Deyo and had 8 children)
Isaac (b 1659 mar Maria Hasbrouck and had 3 children)
Jacob (b 1661 mar Geertje Gerritsen and had 11 children)
David (b 1667 mar Cornelia Vernooy and had 6 children)
Solomon (b 1670 mar Tryntje Gerritse Foochen and had 9 children)
Rebecca (b 1671 DSP)
Rachel (b 1675 DSP)
Louis Jr. (b 1677 mar Rachel Hasbrouck and had 7 children)
Mattheus (b 1678 mar Sarah Matthysen and had 12 children)
His mother thought to be Cornelia His father was
Chretien Maxmillan DuBois b1597, d before 1655 -- a farmer from the village of Wicres.
Other children of Chretien DuBois were
Francois b abt 1622 (mar Pierre Billiou and had 8 children)
Ann b abt 1625 (DSP ?) Jacques b act 1628 (mar Pierrone Bentyn and had 8 children)
Wicres today is a village of about 300 persons located 15 miles southwest of the beautiful city of Lille in Artois. This continues to be an agricultural region where potatoes, cauliflower and wheat are grown. Cows likewise appear to thrive. (Photo by Mike Judd)
Parents of Chretien DuBois were
Pierre DuBois b abt 1567 and Francoise De Leuville
Father of Pierre DuBois was
Astrenoiare DuBois b abt 1540
During W.W.I I, Wicres was 4 km from the front lines and was likely obliterated...all buildings appear to be contemporary. (Photo by Mike Judd)
Catherine Blanchan was a sister to Maria b abt 1640 and Matthew Blanchan b 1655.
` Her parents were
Matthew Blanchan b perhaps 1610 - 1615 in Noeuville-au-Corne, Ricame, Artois, France and d 1688 in Ulster County, New York. He moved to Armentieres and mar Magdeleine Jorisse (Joire?) by 1635. (It is speculated that her father could have been Joris Serge.) By 1649 they were living in or near Canterbury, England where their presence is recorded at the Walloons or Strangers Church of Canterbury for the marriage of his brother Anthoin. The passenger list of "De Verguige Otter" (The Gilded Otter) under Capt. Cornelis Reyersz Van der Beets lists "Mattheu Blanchand, farmer, from Artois, wife and three children, 12, 9, and 5 years old." They arrived at New Amsterdam April 26, 1660. Also listed is his new son in law Anthony Krypel (Antoine Crispell). Matthew Blanchan acquired title to a considerable amount of land in the Esopus (New Paltz). Aspects of his life were also well documented in court records of the time. His last will was dated August 22, 1671 and proved March 4, 1687 in Kingston.
His parents were
Leonin Blanchan and Isabeu Leroy possibly from the area around Armentieres. They were both deceased by April 1649 when their son Anthoin was married.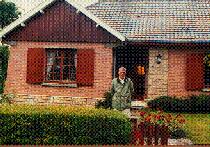 If you visit Wicres you should look for this gentleman named Oswald Cotte who can tell you a little about the area and possibly point out the old farm land of the DuBois family. (Photo by Mike Judd)
To learn more about the DuBois family and the early history of the Huguenot community in New York State you might enjoy a visit to The DuBois Family Association Home Page as well as to the Huguenot Historical Society and contact with Catherine Smith of the Dubois Family Assn. by email at DBFA@juno.com
Please note that the seminal work The American Descendants of Chretien DuBois of Wicres, France is now under revision -- several parts are finished and can be purchased very reasonably via Ms Smith. Write to her at
DuBois Family Association
P O Box 545
New Paltz, NY 12561
Page prepared by Mike Judd and based in part on "The American Descendants of Chretien DuBois of Wicres" William Heidgerd, editor for the DuBois Family Assn. vols. I-III; "Matthew Blanchan in Europe and America" rev by Ruth P. Heidgerd, based upon the papers of Major Louis DuBois (1891-1965), pub by DuBois Family Assn., Huguenot Historical Society, New Paltz, NY. and "HISTORY OF NEW PALTZ New York AND ITS OLD FAMILIES" by Ralph LeFevre, Fort Orange Press, 1903; "Descendants of Astrenoiare DuBois" by Tom DuBois. Additional assistance has been received from Howard Sacks of the Huguenot Historical Society. Comment and corrections to page author please.
Minor face lift of this page on 4 March 2001